A brief history of Siquijor
They say that Siquijor rose from the sea amid thunder and lightening.
To support this fossils of clams and other sea creatures can still be found in the interior highlands even now. The island's native name was KATUGASAN, from Tugas, the Molave trees that cover the hills. It was earlier known to the Spaniards as
"Isla del Fuego" (island of fire)
because of the swarms of fireflies they found there. It's present name is claimed to have been after King Kihod, it's legendary ruler. Another version says it came from quidjod, a native term meaning"the tide is ebbing". In time, the name "Siquijod" (as the place was known to the friars) evolved until the "d" was changed to "r" for Spanish euphony.
From 1638 to the end of the Spanish occupation, Siquijor was under the ecclesiastical authorities in Cebu. For some time, it was administered politically by Bohol. In 1901, it became a sub-province of Negros Oriental and remained such until September 17th when Republic Act No:6398 made it into a separate province.
Larena, the ecclesiastical and trading center founded by father Eustaquio Ruiz, was the capital of the island until 1972, when Proclamation No:1075 transferred this to the town of Siquijor.
The original inhabitants came as farmers and fishermen from Cebu, and the adjacent islands. The Siquijodnons, as the present residents are known, speak Cebuano and English.
The island province is endowed with idyllic white sandy beaches, coral reefs teeming with marine life, century old churches, and other scenic spots.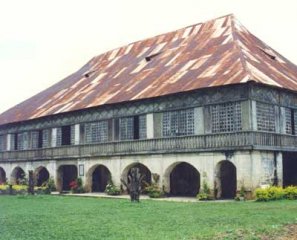 San-Isidro-Labrador-Church Siquijor is popularly known throughout the country for witchcraft which exists in various forms. This is so despite the long presence of Christianity in the island. It's practitioners are classified as "white" or "black", depending on whether they specialize in healing or harming. The black sorcerers are known as "magbabarang".
During Holy Week, "Witches Festival" is held at Crocodile Hill overlooking the Bay of Lazi and the Mindanao Sea. When the moon is full, the sorcerers gather herbs, roots and live insects, throw these into giant cauldrons filled with boiling water, then sit around it while mumbling incantations. This is followed by dancing and ends in an exclusive ritual in a secluded cave at dawn.